On November 26, 2012, the construction of the heavy-duty Dongyue International Business Park and auto parts project started in the high-tech zone of Jining City. Zhou Hong, member of the Standing Committee of the Municipal Party Committee and deputy mayor, Mou Chunming, member of the Standing Committee of the Municipal Party Committee and Secretary of the Party Committee of the High-tech Area attended the meeting.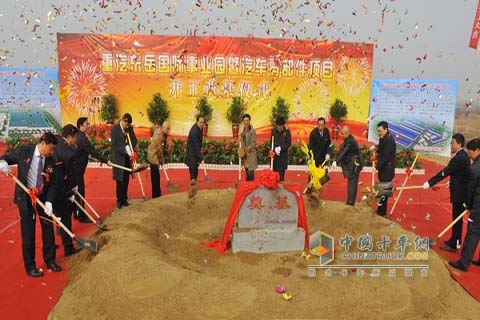 Construction of the foundation of the Dongyue International Business Park and Auto Parts Project of CNHTC in Jining City High-tech Zone

The Dong Yue Motors to invest 1.18 billion yuan construction of heavy truck Dongyue International Business Park, set product development, testing, production, marketing, integrated services in one, the project design total construction area of 17.3 square meters, the project through joint ventures, technology transfer The research and development of independent intellectual property rights belong to the products that are encouraged and developed in the field of national industrial structure adjustment, starting from a high standard and starting from a high starting point. The products are for domestic and international markets. After it is fully put into place, it will form 20,000 sets of special-purpose vehicle top assembly, 3,000 explosion-proof special-purpose vehicles for mines, 300,000 sets of engineering bridges, 100,000 sets of LNG gas vehicle parts and components, and carbon fiber and other high-tech materials for lightweight auto parts. 300,000 sets of production capacity.

Shandong Dongyue Special Purpose Vehicle Manufacturing Co., Ltd. is a key enterprise in the automotive industry of our province, and it is also one of the fastest growing, best-growing and most competitive enterprises in the special-purpose automotive industry such as dump trucks and tank-type refitting vehicles. After the strict operation of China National Heavy Duty Truck Group's shares, the company's core competitiveness and comprehensive strength have been greatly improved, and it has become a special-purpose automobile manufacturing group mainly for engineering vehicles, urban vehicles, and road vehicles.

It is understood that in recent years, especially since 2012, Jining City has been firmly focused on building a regional new highland development target, vigorously implementing the "strong industrial city" strategy, and successively building machinery manufacturing, biotechnology, textile new materials, special vehicles, and optoelectronics. State-level industrial bases such as specialty industries have cultivated a group of large-scale enterprise groups with core competitiveness at home and abroad. In particular, in the automotive industry, the company focused on building a "100 billion-class" industrial base and a well-known "city of power" in China, gathered leading companies such as China National Heavy Duty Truck, Geely Automobile, and Yuchai Engine to form a preliminary coverage of commercial vehicles. The automotive industry has entered a stage of rapid development, with special vehicle and engine systems, transmissions, cabs, brakes, and other core components for the development, production, and trade of integrated automotive industry systems.

Our Plastic Shopping T-Shirt Bag / Vest Bags could made into various size and colors, and could also print with your design or LOGO. The material could be HDPE / LDPE Virgin. The bags could be in clear / White/ Black/ Red/ Green/ blue/Yellow/ Purple and so on. We could make the bags into most color as shown in the Pantone Book.

Our certificates: ISO 9001:2008, and BRC

Trust you will like our quality, service and price.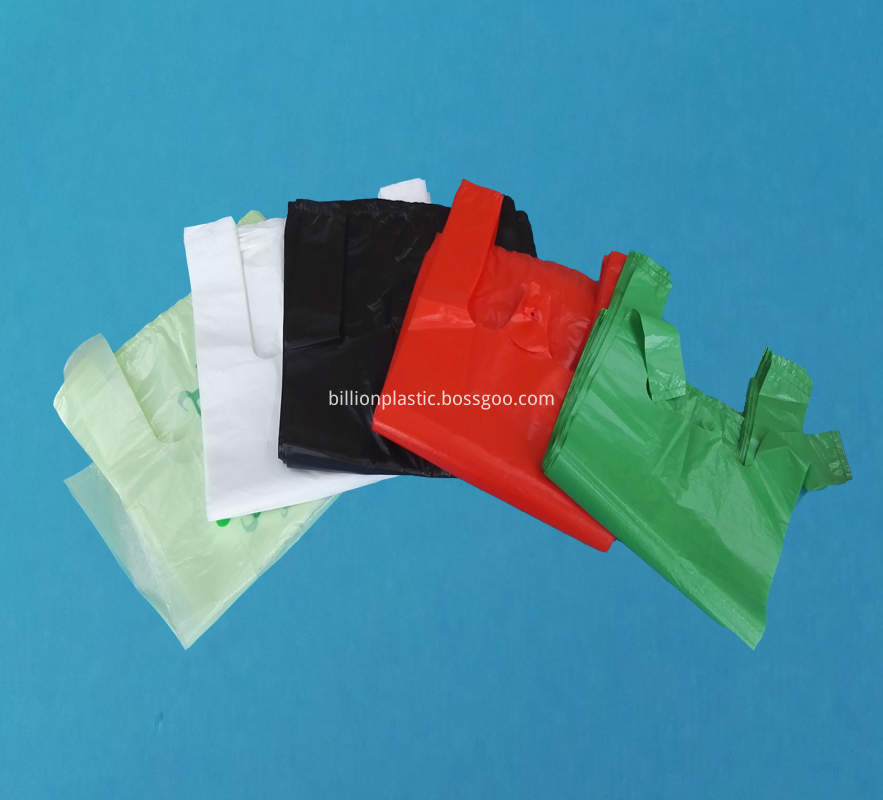 Tee Shirt Bags,T-Shirt Shopping Bags,Plastic Bags For T-Shirts,Custom T-Shirt Packaging Bags,Thank You Bags,Big Plastic Shopping Bags

BILLION PLASTIC MANUFACTURING CO.,LTD, JIANGMEN , https://www.jmtshirtbag.com