As international oil prices continue to rise, major international oil and petrochemical companies have adjusted their investment strategies to withstand the high cost of oil prices. Specifically in the following five aspects.
The first is to integrate upstream and downstream industrial chains and increase downstream investment. Although transnational oil companies have formed a pattern of upstream and downstream integrated operations, there has been a long-term imbalance in upstream and downstream issues: upstream revenue and profits are far greater than downstream, causing investment to tilt upstream, resulting in insufficient general downstream investment. The insufficiency of downstream production capacity further constrains the supply of oil products, and plays a role in fueling high oil prices. In order to more rationally integrate the upstream and downstream industry chains, multinational oil companies have recently accelerated the technological transformation of existing large-scale oil refineries and built oil refining projects in areas with rapid growth in oil consumption in East Asia and South Asia.
Second, attach importance to the development and utilization of natural gas resources and increase the proportion of investment diversification. As a clean energy source, natural gas has rapidly risen in the proportion of one-time energy consumption. With the breakthrough of storage and transportation technology, the application prospect of natural gas is even wider, and it has become a new profit growth point. Multinational oil companies have gradually increased investment diversification efforts and shifted their business from oil to oil and gas. The integration of natural gas production, transportation and sales has risen to become one of the major business segments of many companies.
The third is to increase upstream investment and renew attention to oil and gas exploration and development in the old oil region. With the rise of international oil prices, the upstream business of oil and gas development is highly profitable. Whether it is an integrated multinational oil company or an independent oil company, it has continuously increased its investment in oil and gas exploration and development since 2000. At the same time, the rise in international oil prices makes the oil and gas resources that have a high part of mining costs in the old oil areas regain the economic value of exploitation. This part of the newly exploitable resources will undoubtedly greatly increase the world's oil recoverable reserves and become one of the significant benefits of high oil prices.
Fourth, the investment in exploration and development in the new area has increased, and the oil grabs in the world have become increasingly fierce. After entering the era of high oil prices, the regional exploration and development of multinational oil companies has shifted from the Middle East, the North Sea, and the United States, where hydrocarbons are abundant and easy to exploit, to non-enriched areas or Africa, the Caspian Sea, and other areas with relatively poor geological conditions. Land transfers to the sea and land, which has triggered a global battle for oil resources.
Fifth, increase research investment and vigorously develop unconventional energy and alternative energy sources. While continuing to implement oil and gas exploration and development activities, multinational oil companies are actively seeking new breakthroughs in the development of practical alternative energy sources and seizing opportunities for development. Such as BP and Shell to develop natural gas synthetic oil technology projects, and increase investment in wind energy, coalbed gas, oil sand resources.

Truck mounted crane, Crane Truck,mobile crane Truck, This kind of special truck is mainly used for transporting cargo
In order to Convenient transporting, it install the crane to lifting the cargo.crane style model foldable,telescope..
Currently our company produce the Crane truck from 3 tons~40 tons model

1. The optimizing layout of the machine makes the stress of the main bearing carriers more reasonable, and the lifting performance is higher than the products with the same tonnage.

2. Optimize the stress design. Adopt the box-type outriggers which have larger span, stronger rigidity, and better stability.
3. Full hydraulic pressure drive, electrical and oil dual-purpose, safe and reliable work, high efficiency, low labor intensity;
4. Every hydraulic system equipped with balancing valve and hydraulic lock, safe and reliable performance


5. Crane jib and important components are made of high strength steel plate to reduce weight of crane and improve crane performance.




Main scope:Concrete Grinding machines, Floor Polishing Machines, Road Line Marking Machines, Truck Cranes, Road Rollers, Excavators, Concrete Leveling Machines, Power Trowels and other Construction machinery .




Jining oking tec co.,ltd, established in 2010, is a professional manufacturer engaged in the research, development, production, sale and service of Concrete Grinding machines, Floor Polishing Machines, Road Line Marking Machines, Truck Cranes, Road Rollers, Excavators, Concrete Leveling Machines, Power Trowels and other Construction machinery .

We are located in Jining city,Shandong province with convenient transportation access. Dedicated to strict quality control and thoughtful customer service, our experienced staff members are always available to discuss your requirements and ensure full customer satisfaction.

In recent years, we have introduced a number of advanced production equipment, and also have an excellent production team and a complete quality assurance system to ensure that each batch of goods is delivered to customers in a timely and high quality.

We also have an excellent management team, experienced technical staffs and professional sales team to solve all problems you encountered before and after sales. In addition, we have obtained I S O 9 0 0 1:2 0 1 5 certificates. Selling well in all cities and provinces around China, our products are also exported to clients in such countries and regions as United States, Europe,Australia, Southeast Asia,Russia,the Middle East,Africa. We also welcome OEM and ODM orders. Whether selecting a current product from our catalog or seeking engineering assistance for your application, you can talk to our customer service center about your sourcing requirements.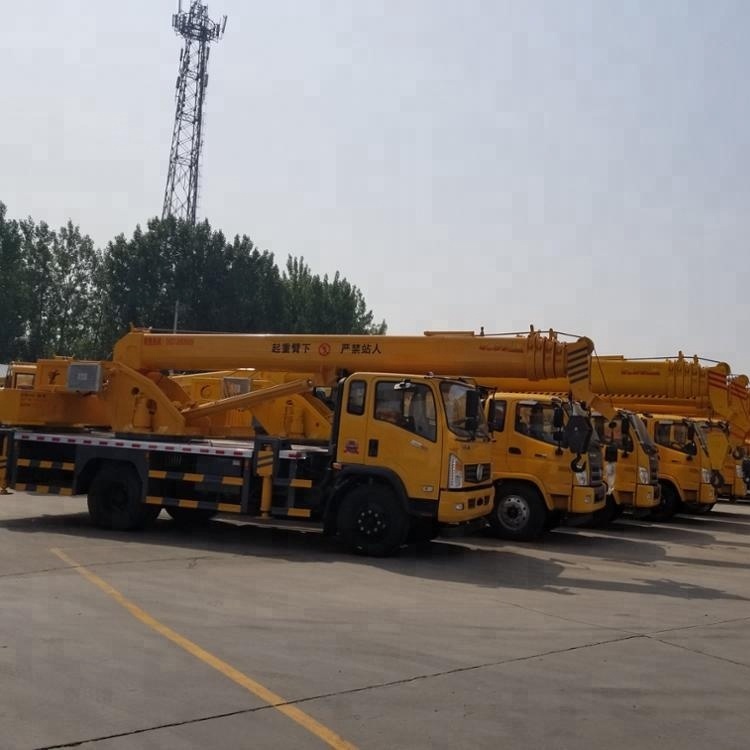 Truck Crane, Used Truck Crane, Mini Truck Crane, 8 Ton Truck Crane
Shandong Nicosail Group Co., Ltd. , https://www.diggerexcavator.com