Model NO.: X(S)N-110L

Working Volume of Mixing Chamber: 110L

Rotating Speed of Rotors(Front Rear): 30 24.5 Rpm Per Min.

Tilting Motor Power: 4.0kw

Driving Motor Power(Kw): 185kw

Machine Gross Weight: 14.9tons

Trademark: TENGYUAN

Transport Package: Nude Packing

Specification: 37CBM

Origin: Qingdao China

HS Code: 84778000

Our Advantages:

1. More than 30 years experience in designing & manufacturing of rubber machines.

2. Jerry-build & inferior quality are never allowed.

3. Powerful technical team for customized service & professional oversea technical guide.

4. Strong processing capability for the most efficient machine delivery. 

X(S)N-110X30 Rubber Kneader, Rubber Internal Mixer, Rubber Dispersion Mixer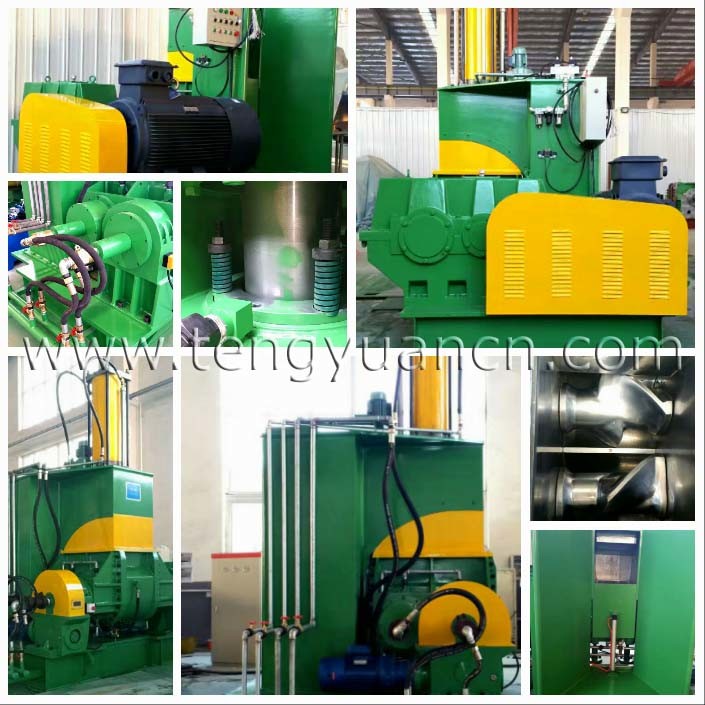 Machine Usage:

Our rubber kneaders are primarily used for plasticating and mixing of natural rubber, synthetic rubber, regenerated rubber and plastic, and also for blending of various stocks of low viscosity.

Machine Introduction:

This machine is mainly composed of machine base, based on the rack of bone support, installation of mixing mechanism, tilting mechanism, pressing device, the main transmission system, the cooling (heating) systems, pneumatic control system and electrical control systems.

1. Steel welded base and frame.

2. Mixing chamber is plated with hard chrome on its internal walls.

3. The rotors are two edge shearing style and made of precision cast steel. 

4. All gears are all made of 42chrome molybdenum (42 GrMo), with quenching and nitriding treatment.

5. Hardened surface gear speed reducer & high transmission efficiency.

6. PLC control system.

7. Dust collection device is installed to avoid air pollution.

8. Thermal resistance inspect and control the mixing temperature.

9. Pneumatic control system used for controlling the pressurized ram up and down.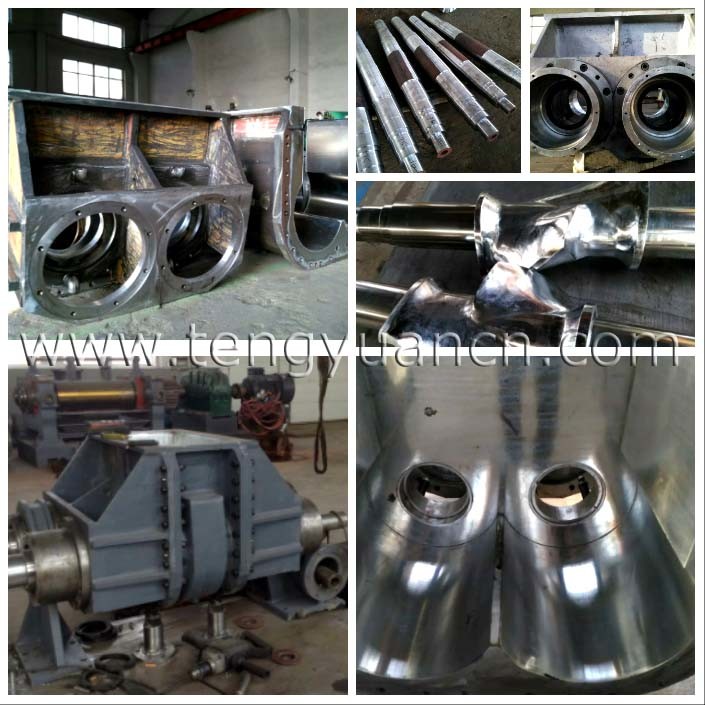 Machine Features:

1. Durable machine body with sufficient raw material applied.

2. Reliable machine quality with superior accessories chosen.

3. Latest machine design

4. Less maintenance needed

5. Easy installation

6. Environment protection

7. High safety configuration

8. High automation

9. High efficient and superior mixing performance.

10. Low power consumption & labor saving.

11. Low noise & long service life.

Technical Parameters:
| | | | | | | | | | |
| --- | --- | --- | --- | --- | --- | --- | --- | --- | --- |
| Model | X(S)N-3X32 | X(S)N-10X32 | X(S)N-20X32 | X(S)N-35X30 | X(S)N-55X30 | X(S)N-75X30 | X(S)N-110X30 | X(S)N-150X30 | X(S)N-200X30 |
| Total Volume of Mixing Chamber (L) | 8 | 25 | 45 | 75 | 125 | 170 | 250 | 325 | 440 |
| Working Volume of Mixing Chamber (L) | 3 | 10 | 20 | 35 | 55 | 75 | 110 | 150 | 200 |
| Rotating Speed of Rotors(Front/Rear) (r/min) | 32/24.5 | 32/25 | 32/27 | 32/24.5 | 30/24.5 | 30/24.5 | 30/24.5 | 30/24.5 | 30/24.5 |
| Driving Motor Power (KW) | 5.5 | 22 | 37 | 55 | 75 | 110 | 185 | 220 | 280 |
| Tilting Motor Power (KW) | 0.55 | 1.1 | 1.5 | 2.2 | 2.2 | 4.0 | 4.0 | 5.5 | 7.5 |
| Tilting Angle | 135° | 140° | 140° | 140° | 140° | 140° | 140° | 140° | 140° |
| Pressure of Compressed Air (MPA) | 0.5-0.8 | 0.5-0.8 | 0.6-0.8 | 0.5-0.8 | 0.6-0.8 | 0.6-0.8 | 0.6-0.8 | 0.6-0.8 | 0.6-0.8 |
| Pressure of Cooling Water (MPA) | 0.2-0.4 | 0.2-0.4 | 0.2-0.4 | 0.3-0.4 | 0.3-0.4 | 0.3-0.4 | 0.3-0.4 | 0.3-0.4 | 0.3-0.4 |
| Consumption of Compressed Air (m³/min) | ≥0.3 | ≥0.5 | ≥0.7 | ≥0.9 | ≥1.0 | ≥1.0 | ≥1.5 | ≥2.0 | ≥4.0 |
| Pressure of Heating Steam     (MPA) | 0.5-0.8 | 0.5-0.8 | 0.5-0.8 | 0.5-0.8 | 0.5-0.8 | 0.5-0.8 | 0.5-0.8 | 0.5-0.8 | 0.5-0.8 |
| Overall Dimension (L×W×H)  (mm) | 2000x1000x2200 | 2640x1650x2350 | 2675x1650x2560 | 3200x1900x2950 | 3230x1927x2958 | 3325x2615x3105 | 4075x2712x3580 | 4250x2750x4106 | 4250x3400x4215 |
| Weight(t) | 2 | 3.3 | 4 | 6.3 | 7.1 | 9.5 | 14.9 | 19.5 | 22.5 |
Our Service:

1. Our engineer team can design customized machines for you and send the drawings for confirm.

2. The wires' connection from control box to operation box is finished before delivery. The user only needs to connect the outside wire to the controlling box.

3. Each machine is tested running with load at our factory before delivery to guarantee each parts working well.

4. Foundation drawings, detailed machine assembly drawings & parts drawing, user guide and maintenance manual  will be supplied before the delivery. 

5. Custom clear documents required in destination port, such as B/L, commercial invoice, packing list, insurance policy, C/O will be supplied once upon the delivery. 

6. Oversea technical support can be offered as per request.

Our Package & Delivery: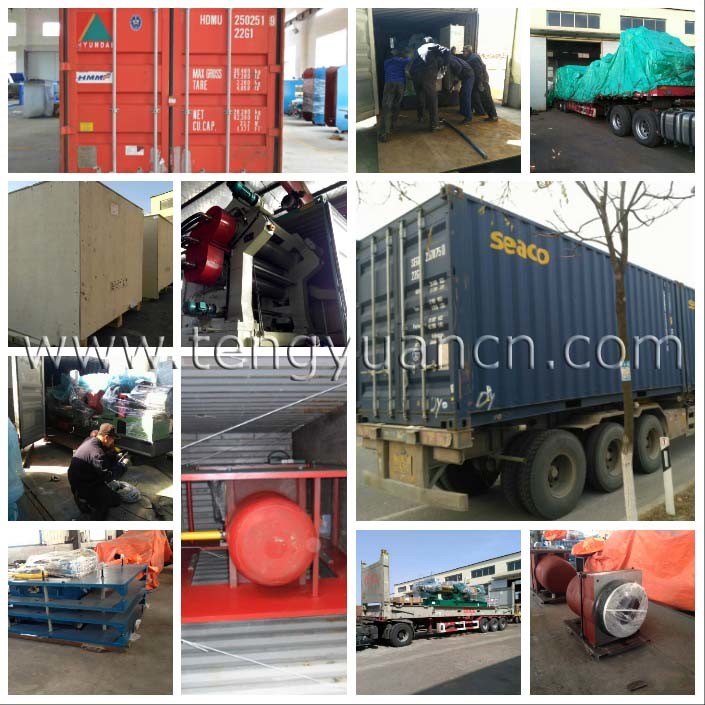 FAQ:1. Delivery time of the rubber machines? 

Normally it needs about 25 days to 3 months according to the ordered machines' size and quantity.

2. What does your factory do regarding quality control?

We have the most professional engineer team to design the correct machines at the beginning, equip with the most advanced processing device to process the machine parts during the production period and finally arrange the most experienced assembly workers to assemble and check the final machines to 100% guarantee the superior quality and stable performance of each machine.

3. How long is your machines' warranty period? 

The warranty period for our machines is one year from the day of normal working at the user plant.

4. Are you able to give installation and commissioning overseas? How long time will it take?

Yes, we can supply overseas service and technical support at the user plant with the charge of the required cost.

Small machines normally takes within 1~3 days.

Large machines normally takes about 30 days.

5. How can we go to your side for a factory visit?  

We are located in Qingdao City, Shandong province, China. The nearest airport is Qingdao liuting airport.

Please advise us your time schedule in advance for us to pick up you at the airport.

Pet Food Process Line,Pet Treats Injection Moulding Machine,Fish Floating Food Process,Bird Food Machine

JINAN CFC MACHINERY CO.,LTD , https://www.cfcmachine.com